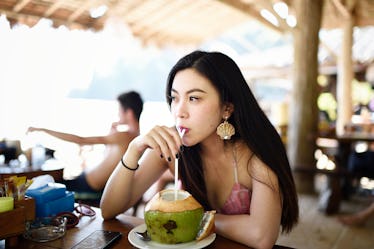 The Most 'Grammable Tiki Bars In The World Will Put You In A Tropical State Of Mind
It's five o' clock somewhere, right? There's no doubt that a tasty cocktail can serve as the perfect escape after a long, hot day. It's even better when the bar atmosphere makes it really easy for you to chill out. That's why tiki bars are little pieces of paradise on earth. The vibrant decorations make us feel like we're on a much-needed vacay, and the tropical vibes make it so easy to kick back and relax with friends while sippin' out of a pineapple or coconut. The best tiki bars in the world will make you feel like you're in paradise, even if only for the night.
According to Thrillist, the very first tiki bar made its debut in Los Angeles back in the 1930s. There are still plenty around for those who want a quick escape from their hectic schedules for a bit. The immersive atmosphere with wood carvings and bamboo decor will make you feel like you're chillin' right in the tropics. The drinks are especially fruity, served up with rum, and garnished with a cute mini umbrella. You can keep it simple with a traditional cocktail or sip on a huge fishbowl with your whole crew. These handcrafted drinks will definitely put you in another state of mind, and they're seriously Instagram-worthy, too. Whether you find yourself in California or New York, these tropical bars will be worth the hunt.