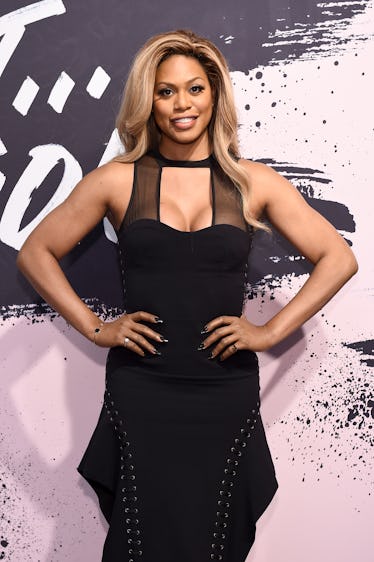 Laverne Cox Reveals 3 Gifts She Needs For The Holidays & You'll Want 'Em, Too – EXCLUSIVE
Ilya S. Savenok/Getty Images Entertainment/Getty Images
I don't know about you, but I'm that person who runs through Target at 5 p.m. on Christmas Eve scrambling to find last-minute gifts for my friends and family. I never know what to buy anyone, so I wrap up a picture frame, find old pajamas I haven't worn in years and call it a day. The holidays are always stressful, but they actually don't have to be. Enter Laverne Cox — actress, activist, goddess of gifts. I was able to sit down with the star to talk about the best technology gifts to give this holiday season and boy, did she enlighten me. Who doesn't love a good touch screen, am I right?
Cox partnered with Verizon to showcase their 2017 Holiday Gift Guide and the collection is unreal. If you're buying a gift for anyone between the ages of 8 and 94, then you're gonna want to check this out because you can't go wrong with a good tech gift. It's 2017, people. This is all we know.
The Holiday Gift Guide includes everything from a Google Home mini (I have one, it's amazing) to an Arlo Go (a security camera that streams live HD video). Cox's favorite? The Samsung Gear 360 Camera. The actress explains, "There's a Samsung 360 camera that basically, when you press it — oh, girl, I'm obsessed with it — you press it and it gives you a 360 view of everything... so then when folks are looking at your view, they can move their phone and see everything that you shot." According to Verizon's Holiday Gift Guide, the camera is the perfect gift for family members who are unable to travel during the holidays because the camera "makes them feel like they are there in-person."
Samsung 360 Camera, $162, Amazon
Another great option, Cox adds, is the JBL Link 20. This hands-free voice controlled speaker system is the perfect gift for any music lover in your life. Cox says, "When I'm getting ready, for me... you gotta have music or it doesn't work... and [the JBL Link 20] is one of those voice-activated speaker systems that links to your phone, that links to everything, and kind of gets the party started... I love having music in the morning, when I'm in the shower... if the music isn't loud enough over the water, this is a perfect way to play your music when you're getting ready... music just helps me get in my flow for the day." Preach.
And for your active friend? Cox shares, "I love the Fitbit Ionic too. I just got it... I just went vegan like two weeks ago and so I'm really trying to commit to being healthier, to moving more... during the holidays most of us gain 10 to 15 pounds... what I'm hoping for this holiday season with the Fitbit Ionic is to be held more accountable, so I'm moving as much as I'm eating." She laughs, "It's one of those things where it's an accountability thing, but we want to have fun and indulge and do the things we do during the holidays but it's like, let's try to keep it in check... so, I'm excited to make it a part of my life to be healthier."
Fitbit Iconic, $299, Amazon
When asked if she has any gift-giving advice, Cox says "knowing who you're shopping for" is really important. Her best advice is to "try to give gifts that [you're] excited about. She explains, "If I'm excited about it, they'll probably be excited about it, too. Something I love, they'll probably love too."
Technology isn't the only route you can take. Cox admits the best gift she's ever received isn't even a gadget: "When people tell me I've impacted their lives in a positive way, that feels like a wonderful gift... when someone's life has been changed because of something you've done... sometimes it's about an act of kindness that can really be a great gift."
Thanks for the tips, Laverne!