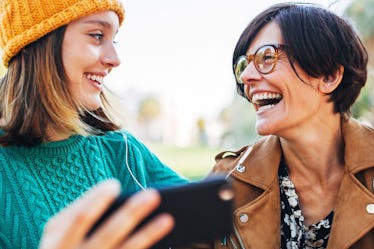 8 Moms Reveal Their Best Sex-Positive Advice & You'll Love It So Much
Moms really do know best, even when it comes to sex. Did you just cringe? Well, try to move past it, lady, because moms have, enjoy, and know a whole lot about getting busy. They have the wisdom that comes with the experience of having quite literally been there and done that, which is why you should never miss an opportunity to take on some of their wisdom, even if it may feel a little awkward to talk your mom about the ins-and-out of going to bone town. Nothing beats the best sex-positive advice from moms.
Listen, I get it. You may not feel totally comfortable asking your mom for all the down-and-dirty deets, so here's the good news: Mom advice doesn't just have to come from your mom, it can come from any mom! Which is why I reached out to a whole bunch of them for their best advice. Here's what they've either told, or will tell, their kids about sex. And honestly, this advice is so good. Some of it is practical, some if it is spiritual, but all of it, if you apply it today, will take your sex life — and self-love — to the next level.