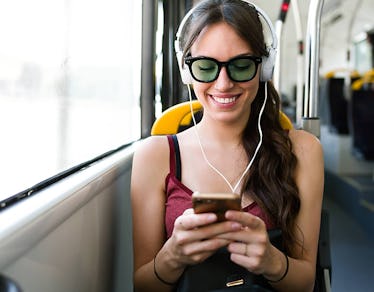 Self-Care Doesn't Have To Be Complicated & These 6 Apps Make It As Simple As Possible
How much time have you dedicated to self-care lately? It might be more than you think. See, thanks to social media influencers and your favorite celebrities' ideas of what it means to be self-indulgent, self-care has been made out to be something over-the-top extravagant — think tubs overflowing with bubbles, essential oils diffusing in a candlelit bedroom, and expensive skincare products lined up in a row on your bathroom sink. Really, though, taking care of yourself can be as easy as downloading one of the best apps for self-care onto your phone, finding a few minutes of your day to decompress, and continuing on with your regularly scheduled programming. Sure, sheet masks are lovely, and if you have time to draw yourself a bath and sip a glass of wine as you soak, by all means, do you, boo. But if time is of the essence, technology's here to help you out.
And listen, don't get me wrong, because my online feed is just as full of social media personalities spoiling themselves with hours-long self-care routines and spa treatments as yours probably is, but for most people, real life isn't a constant Instagram photoshoot. Personally, I don't know many people who can carve out more than maybe 30 minutes or so of their day to check in with themselves — do you? It's unfortunate, of course, but it's a reality for a lot of people, and if you're one of them, there's no need to feel like you're "failing" at self-care just because you don't shower with champagne, or have a drawer full of bath bombs.
Self-care doesn't have to be complicated or expensive. It really can be as simple as pressing a button on your phone. Here are a few of the best self-care apps for iOS and Android to download ASAP for self-care in seconds.