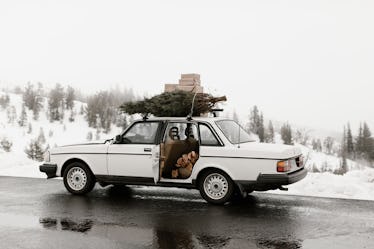 The Ultimate Playlist For The Girl Who's Driving Home For The Holidays By Herself
*Cue the music.* Oh, there's no place like home for the holidays — Mom's homemade pumpkin pie is way too good to miss, after all. Flying can get super expensive, so you might want to consider road tripping it up this year. In addition to great snacks and a thermos of hot chocolate, you'll need a playlist to get you through the adventure. I like to think of myself as a playlist aficionado, so here's what I think is the best playlist for driving home for the holidays.
In my personal opinion, a holiday playlist needs to be a blend of old and new songs. (Mariah Carey's holiday hits are great, but so are Bing Crosby's.) The ultimate road trip playlist also needs to be a mix of upbeat and chill tunes. A playlist can seriously make or break your road trip: Music totally sets the mood for the entire ride, and can decide whether you're hyped or mellowed out.
If you're driving home for the holidays and need a little bit of musical inspiration, I have put together (what I believe to be) a jammin' playlist that'll have you bopping your head the whole time (and rocking around the Christmas tree once you arrive at your destination).
1. "All I Want For Christmas Is You" by Mariah Carey
I mean, duh. This song just might be your holiday anthem, and for good reason. Mariah Carey introduced this sleigh-bell-heavy-bop to an entire generation of holiday music-loving people. I am down to listen to this song any time of the year — even in the heat of summer — but I make it a point to put it on repeat every year on Nov. 1 to get me in the holiday mood.
2. "Santa Claus Is Comin' to Town" by Bruce Springsteen
A lot of versions of "Santa Claus Is Coming To Town" give me serious holiday feels, but there's something about Bruce Springsteen's version that gets me the most pumped up for the holidays. The Boss's voice will have your (left) foot tapping on the beat.
3. "Do You Hear What I Hear?" by Whitney Houston
Pretty much any of Whitney's Christmas songs are good for jamming out in the car, but her version of "Do You Hear What I Hear?" is both anthemic and calming. She makes you want to sing along with her, but also sit quietly so you can just listen to her amazing vocals.
4. "White Christmas" by Bing Crosby
You can't pass up this classic. This is the perfect soundtrack to every snowy ending of a Christmas movie ever, and it makes even better background music as you're driving through charming towns that are decorated in fairy lights, wreaths, and Christmas trees.
5. "Santa Tell Me" by Ariana Grande
This Christmas song is a true jam you'll love getting stuck in your head. Ariana Grande's voice has a way of making you want to stream her hits on repeat, and this song is no exception.
6. "Mistletoe" by Justin Bieber
Justin Bieber gifted us this gem of a Christmas song back in 2011, and even though I no longer have a tween crush on him, I still swoon whenever I hear this song. It's a good one to bop your head to and sing at the top of your lungs, and there won't be anyone around to judge you.
7. "O Holy Night" by Celine Dion
Pretty much every pop songstress has taken on this iconic song, but few people can measure up to Celine Dion's version. (I could honestly listen to 4:01 - 4:38 on repeat.) Her rendition of "O Holy Night" will give you chills, and it'll be the perfect song for a serene drive through a rural highway.
8. "Wonderful Christmastime" by Paul McCartney
You might not know all of the words to Paul McCartney's fun Christmas song, but you definitely know the "simply having a wonderful Christmastime" part, and that's kind of all you need for a good car ride sing-along, in my opinion.
9. "Sleigh Ride" by Ella Fitzgerald
A jazzy Christmas song is always fun to listen to, and there's no one better to get you in the swinging holiday spirit than Ella Fitzgerald. This is one you likely know all the words to, but it's a little different than the traditional version to spice things up.
10. "I Saw Mommy Kissing Santa Claus" by The Jackson 5
Something about young Michael Jackson's voice makes me melt, and this song is a perfect one to get you in the holiday spirit (especially if your dad likes dressing up as Santa). You'll be able to jam and sing along with this Christmas classic all the way through your drive.