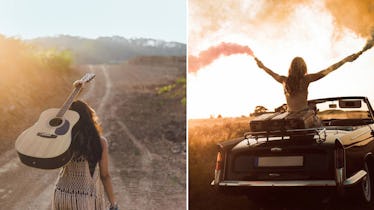 If You're A Country Music Fan, These Destinations Need To Be On Your 20s Bucket List
When it comes to country music, you either love it, or it's not really your cup of tea. It's unlike any other music genre out there, and that's what makes it so special. Country music represents a lifestyle that many people can relate to, especially in the Southern parts of the United States. The messages portrayed in a lot of the lyrics speak to your soul. The vibes are all about love, family, patriotism, and the southern lifestyle. Whether you're a major fan or not, there are just some country songs you can't help but sing along to. This is why you should really check out some of the best places to travel if you love country music.
If there's one country music singer you've heard of, it's probably Taylor Swift. She may have changed her sound in recent years, but Taylor's earlier country songs definitely had us catching the feels. If you want to dive head-first into the country music scene, then there are a few places that you must check out for yourself. You'll be belting out your favorite tunes in no time, and there's no turning back once you learn how to two-step. Once you give country music a chance, you'll be so glad you did.