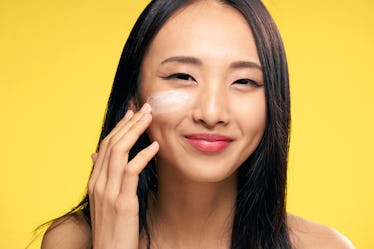 The First Step To Flawless Makeup Is Actually One Of These Priming Moisturizers
As great as makeup is, it'd be nothing without a solid canvas to work with. Regardless of how expensive your foundation, concealer, or bronzer is, no product is capable of covering up a dehydrated complexion. Sure, it can mask it for a bit, but eventually your skin's need for thirst will shine through in the form of cracking and creasing mid-day. And this, my friends, is why it's essential to prep your skin with one of the best moisturizers to wear under makeup.
Of course, prepping your skin with moisturizer also serves a more functional purpose: makeup, specifically liquid formulas (like foundation) will go on so much smoother and easier, resulting in an even, velvet-like complexion. You can even use moisturizer to prep your lips for better lipstick application, or your eyelids, if you plan on applying a cream shadow. Basically, no matter the product, it's going to go on (and look) better with a properly hydrated base.
Ahead, you'll find five of the best moisturizers that prep and prime skin for seamless makeup application. Whether you're looking for a formula with SPF, something totally natural, or an option that's hydrating enough to double as your night cream, you'll find it below.