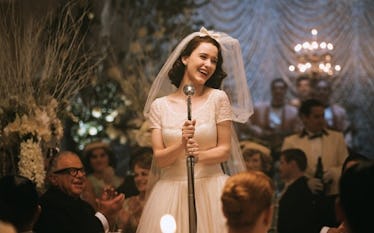 These One-Liners From 'The Marvelous Mrs. Maisel' Season 1 Will Make You Crack Up
Amazon
The Marvelous Mrs. Maisel is a show about making jokes. It's also a show about family, cultural identity, romance, societal confines, finding yourself, and taking risks. But at the heart of series is the story of a New York City housewife turned standup comedian in 1958 — so, zingers, silly anecdotes, and punchlines are to be expected. The 2018 Emmy winner for Best Comedy overflows with wit, snark, and observational humor, from the title character's nightclub sets to her off-the-cuff one-liners. What are some of the best jokes in The Marvelous Mrs. Maisel Season 1? It's hard to round up all the gems, but there are certainly a few standouts.
Midge Maisel (Rachel Brosnahan), also self-described as the "mad divorcee of the Upper West Side," becomes somewhat of an accidental comic on the series' inaugural episode. Drunkenly reeling from the news of her husband's affair, she takes a stab at a rambling routine at a Village club and kills. That's not to say she doesn't bomb later (being a comic is riddles with with applause-filled highs and awkward empty room cough lows, after all), but it's obvious she had a hidden talent just waiting to be let out. If you haven't seen The Marvelous Mrs. Maisel, now's a good time to start. Amazon is set to release the second season this year. If you're already binged it, here are just a few of the lines that made it such a memorable and critically acclaimed delight.
Midge, describing her husband's secretary:
"Do you know I've seen her twice with her shirt on inside out? Penny. Twice. Once, fine. You were rushed in the morning. Twice, you can only be trusted to butter people's corn at the county fair."
Midge, on going below 14th street:
"It's downtown. If you have underwear on, you're overdressed.'"
On comedy:
Midge: "I've only done this drunk or stoned. What-what if that's the only reason I was funny? Like I can't get loaded every time I come on stage."
Susie (her comedy booker): "You never met a comic?"
Midge, on men at parties:
"They're clustered in a corner. Why do they do that? Why do they cluster like that? Because we intimidate them or because they're finally admitting they don't know anything about cars? Lots of tears and catharsis over that. Or maybe they're just hoping to start a really easily-winnable game of tug-of-war. Or it's just a bunch of guys who didn't make their high school team talking about how Mickey Mantle can improve his swing."
On the dangers of carbs:
Rose (Midge's mother): "I should've sent her to Paris. My mother sent me to Paris."
Drina (her psychic): "Paris is wonderful, but it's good Midge didn't go. There was danger for her there."
Rose: "Too much bread."
Midge, discussing a high school sweetheart who got away (and became a criminal):
"But there he was, in the paper, handcuffed, being perp-walked into the station. And I just thought, 'My God, he still looks fantastic.' No, I mean it, better looking than high school. I know, my first thought should've been, 'Dodged that bullet.' Instead it was, 'I don't know, he's single, I'm single. If he beats this thing...'"
On show biz:
Jackie (the comedy club's emcee): What do you do?
Performer: Spoken word with tambourine.
Jackie: Your parents must be thrilled.