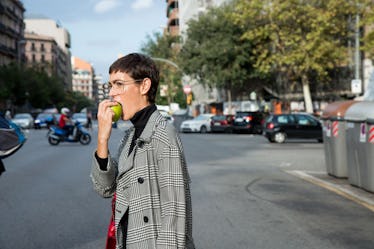 The Best Healthy Snacks For Traveling When You're Hangry & In A Hurry, According To RDs
More often than not, the stress of traveling makes me forget to pack something important each time I hit the road. Sometimes the culprit is an extra belt I meant to bring just in case, or a magazine I wanted to share with my mom during my visit. But the biggest thing I never manage to plan for? The snacks I'll need during my journey. As a result, I often have to choose between being hangry during my trip, or caving and taking the hit to my bank account from buying overpriced airport food. The best healthy snacks for traveling, if you ask me, are the ones you don't need to stress about when you're preparing them. Luckily, it doesn't have to be another huge to-do on the list; it just takes a little bit of careful and strategic planning.
The most important thing to remember is to bring foods that won't end up oozing, splashing, or doing anything else that will render them inedible or super messy. If you want to pack fruit, for example, opt for apples and oranges, suggests Monica Auslander Moreno, MS, RDN, founder of Essence Nutrition. "They're virtually indestructible, unlike pears and bananas, which will wind up gushing guts onto your iPad," she tells Elite Daily in an email. "Fruit is a great way to hydrate, as well as water, since fruits are actually mostly water (and a host of wonderful phytochemicals, which are beneficial to health)."
Whether you're heading off on a spectacular spring break adventure, or you're planning on experiencing a city that's always been on your bucket list this summer, here are some great treats to take on the road.