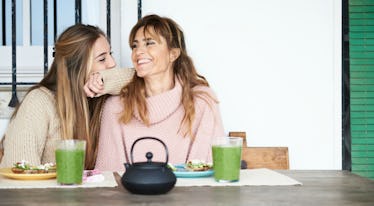 9 Daughters Share The Best Gifts They Ever Got Their Moms, & It's Honestly So Sweet
Sometimes finding the perfect gift is a challenge, especially when you're trying to find a gift for someone really special to you, like your mom. You want to give her a gift that shows her how much you appreciate her and everything she's done for you over the years, but where do you even start? Often, the best gifts to get your mom are the ones that come from the heart. So whether you need gift inspiration for Mother's Day, or just feel like getting super emotional, these sweet stories in which daughters share the best gifts they got their moms (courtesy of reddit) are sure to get you thinking about how you can show your mom how much you love her too.
The best thing you can do is give your mom a gift that's meaningful. It doesn't need to be big or expensive, but it should put her needs and wants first. These stories are proof that anything goes, as long as your gifts come from a place of love — whether it's jewelry, an experience you get to have together, or something small that she'll hold onto forever just because you gave it to her. From handmade keepsakes like calendars and collages with meaningful family photos, to big, thoughtful gestures like registering her for a class she's always wanted to take, these are some of the best gifts daughters have given their mothers. Grab yourself some tissues before you keep reading — you're going to need them!