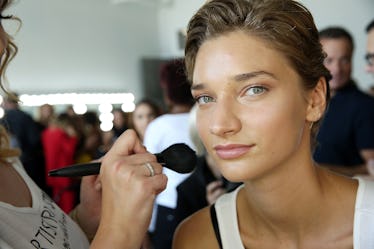 6 Face Self-Tanners To Try Because Summer Is Dead, But Your Glow Doesn't Have To Be
Monica Schipper/Getty Images Entertainment/Getty Images
Just because your beach vacation is over, doesn't mean your hard-earned summer tan has to fade, too. While we hope you wore sunscreen every day, no judgement if you ended up with a little color on your face — many of us want to appear like we've been outside at least once this summer. For those of us that must say goodbye to the sunshine and crawl back into our fluorescently-lit office cubicles, fret not — the best face tanners for 2018 make it super easy (and super convincing) to fake a tan this fall.
The best part about the latest self-tanners for your face are all the different "vehicles" they now come in. From self-tanning wipes, to drops for your moisturizer or serum, a faux-glow can be achieved basically any way you want. Plus, unlike the earlier days of self-tanners, the latest tanners on the market contain more-stabilized DHA, meaning more Gisele Bundchen-bronze and less Donald Trump-orange. Whether you're looking for an instant, been-at-the-beach-all-summer look, or prefer a gradual, went-to-the-pool-once-or-twice color, there's a face tanner for you.
I rounded up beauty editor-approved self-tanners for your face from each category, so that you can tan whenever, wherever you want. May the faux-glow be with you!
Drops
Tan-Luxe The Face Illuminating Self-Tan Drops, $49, Sephora
This tanner is a hero among my beauty editor peers, and for good reason — it creates such a natural look, and is so easy to incorporate into your existing skincare routine. Just add one to four drops into your normal moisturizer, serum or face oil everyday for a subtle, yet sunny glow. Make sure you wash your face before application, and exfoliate your skin regularly to avoid patchiness.
Self-Tanner with SPF
SUPERGOOP! Healthy Glow Sunless Tan Broad Spectrum Suncreen SPF 40, $38, Sephora
It doesn't get more genius than a self-tanner with SPF in it. Supergoop! is known for their award-winning sunscreens, and this pick is no exception — it's basically odorless and provides just as great of a faux-tan as many of the other gradual tanners on the market.
Peel Pads
Dr. Dennis Gross Skincare Alpha Beta Intense Glow Pad Self-Tanner for Face, $38, Sephora
The OG of self-tanning wipes, Dr. Dennis Gross nailed it with his Alpha Beta Glow Pads. His newest launch to the self-tanning pads includes the Alpha Beta Intense Glow Pad Self-Tanner for Face. Unlike his original gradual-tan peel pads, these babies will have you looking like you just stepped off the plane from your Brazilian vacation. If you're a self-tanner newbie, we recommend starting off with the gradual-tan peel pads first.
Loose Mineral Powder
VITA LIBERATA Trystal Self Tanning Bronzing And Kabuki Brush Duo, $55, Sephora
Use this bronzing loose mineral powder to create an all-over glow, or to contour in specific spots on your face. The tan will develop over a four to eight hour period, and will last up to five days!
Serum
COOLA Sunless Tan Anti-Aging Face Serum, $54, Ulta
Basically a two-fer, the COOLA Sunless Tan Anti-Aging Face Serum means less steps in your skincare routine and more time to binge-watch Netflix (because, priorities). Not only does it provide a beautiful tan, but the blend of argan oil, vitamin C, hyaluronic acid, and plant stem cell cultures serum help to plump skin.
Moisturizer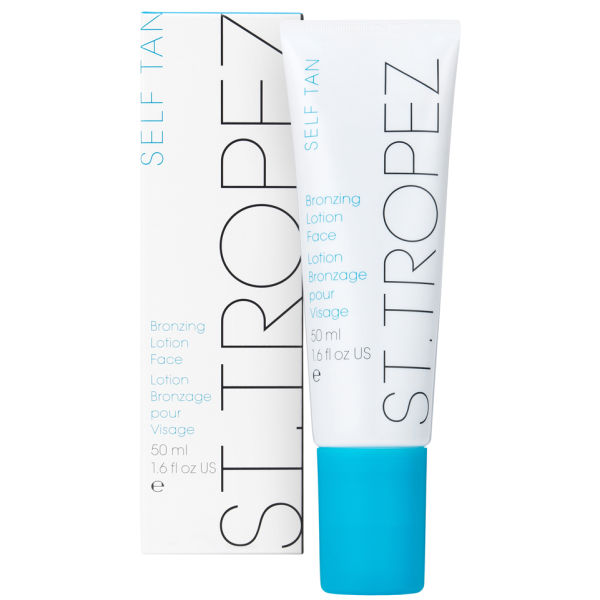 St. Tropez Self Tan Classic Bronzing Face Lotion, $30, Ulta
There ain't nothin' like a classic, and St. Tropez's Self-Tan Classic Bronzing Face Lotion just can't be beat. This lotion hydrates, smells great, and dries down quickly. Avoid having to wash your hands afterward by using a tan applicator mitt to apply this product.