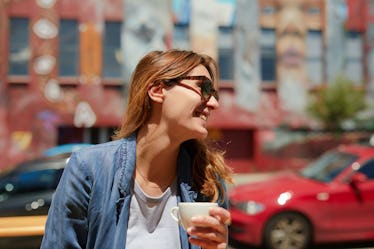 New Research Revealed The Best Cities For Vegans & They're Worth The Road Trip
Imagine sipping a glass of merlot with your bestie at that new restaurant the two of you have been dying to try. You skim through the ingredients list of each item, and suddenly it dawns on you: Wine and breadsticks are basically all you can consume at this place without having to make a few (ahem, dozen) adjustments. Going out to eat can be an adventure when you follow a plant-based diet, since the food service industry isn't always super accommodating to herbivores. Luckily, personal finance website Wallethub released its list of the best cities in the U.S. for vegans and vegetarians to negate the guesswork and hours spent searching through Yelp to find spots that serve more enticing plant-based options other than a lowly plate of French fries. Don't get me wrong — spuds are fab and all, but there's so much more to a veggie diet than salted potatoes and a puddle of ketchup.
Personally, becoming a planted-based eater has instilled in me an appreciation that I never had before for the parents of picky eaters — the patient adults who somehow scramble to make a meal out of what's already being offered on the menu. All kidding aside, though, it's honestly really disappointing that some restaurants aren't making adjustments to be more inclusive, especially when you consider the fact that, according to the results of a 2016 Harris poll, eight million people across the U.S. identify as either vegan or vegetarian.
I know myself, and TBH, one of the reasons I initially hesitated to go meatless was because, in my experience, plant-based options in my New Jersey hometown are incredibly scarce, and I didn't even want to think about what it would be like trying to find vegetarian food when traveling. I've been fortunate enough to find a handful of places near me where I don't feel anxious or hesitant about placing my order, but for someone who's full-on vegan, not just vegetarian — aka someone who doesn't eat any animal products, including dairy, honey, and even some loaves of bread — it's bound to be an even harder adjustment.
Though my home state of New Jersey ranked among those with the lowest percentages of plant-based restaurants in the country (no surprise there, IMO), according to Wallethub's findings, there are more options for herbivores in the U.S. than you might realize. To narrow down the best cities for vegans and vegetarians to dine in, the personal finance hub compared and contrasted 100 of the largest cities across the U.S., and paid close attention to details like the cost of produce and other vegetarian groceries, the amount of restaurants that served meatless options, farmers' markets, vegetable nurseries, salad bars, and more. There's definitely room for improvement across the country, but at least now, you and I can mark these destinations as ones to travel to without having to worry about surviving on scraps of iceberg lettuce and toast.
As far as restaurants go, Scottsdale, Arizona takes the cake for having the most inclusive dining-out options for both vegetarians and vegans, according to Wallethub's findings. But if you'd rather save your dollars to splurge on fresh goodies to experiment with in your own kitchen, San Francisco, California; New York, New York; Seattle, Washington; Honolulu, Hawaii; and Washington, D.C. are the top five hot spots in the country for farmers' markets and similar, community-supported food programs. And if you happen to be driving through the area, New York City is not only known for its smoothie bars (like Pressed Juicery) and salad shops (see: Sweetgreen), it's ranked as the number one destination for both of these things, as per Wallethub's statistics.
Generally speaking, of course, it's definitely healthier to cook your meals at home, but that's true no matter how you eat, and plant-based eaters deserve a night out of the kitchen once in a while, too. And even though veggie takeout might not exactly be super plentiful where you live, it's a comfort to know that at least you can still travel on a full stomach.