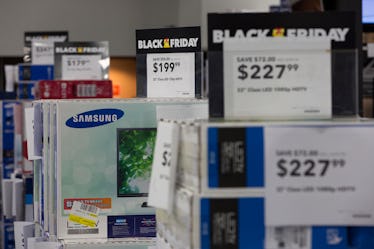 Here Are The Best Black Friday TV Deals You Need To Know For Your Binging Needs
Aaron P. Bernstein/Getty Images News/Getty Images
With Black Friday just around the corner, you can bet that thousands of shoppers will be looking to pick up a brand new television after Thanksgiving. After all, some of the best deals during the holiday season are featured on the discounted price tags of different TV models. This year is no different, and if you're in the market, there are couple of Black Friday TV deals you should definitely keep in mind.
Walmart — Samsung 55" LED Smart HDTV
If your budget for a new TV is $500, then you're in luck. Walmart is offering a deal that features a discount of over 50 percent, for a model made by a well known brand, and you don't even have to wait 'til Black Friday to buy it.
This 55-inch model from Samsung is being sold right now for $448, a drop of over $700 from the initial retail price of $1,200. The TV includes a built-in WiFi capability, which means you can stream content from sites like Hulu and Netflix. The TV comes with a stand but can also be mounted on your wall.
Walmart offers free two-day shipping on the product, so maybe you won't even have to figure out how to fit it into your car with all your other Black Friday swag.
Samsung 55" LED Smart HDTV, $448, Walmart
Best Buy — Sharp 50" 4K Ultra HD Roku TV
Sharp 50" 4K Ultra HD Roku TV, $180, Best Buy
This Best Buy deal is definitely one you'll have to wait 'til Thanksgiving for, but it will come just over half the price of the Walmart offering mentioned above. This deal features a 50-inch smart TV made by Sharp. And while the initial retail price was $500, Best Buy's Black Friday ad lists the product at $180, another deal with a half-off discount.
Like the Samsung model, this TV also has built-in WiFi, but also has a built-in Roku feature. The model will only be available in stores, though, so get ready for a trip.
LG's OLED sales
You can chalk this one up to "super expensive products becoming a little less expensive," but they are worth noting because of their reputation. LG's OLED display TV's are regarded by tech site CNet as the best models the site has ever reviewed and they're going on sale starting Nov. 19 all the way to Cyber Monday, the following week.
Now here's the awkward part: the LG sale will feature a discount of $1,000, sure, but that comes on a model that's regularly priced at $8,000. On the lower end of the price spectrum, LG is offering a $100 discount on one of its 55-inch OLED models.
A list of the high-end product's discounts from LG are here. In addition, Amazon has its own sale on a coveted LG product as well, a 55-inch 2017 model that its selling for around $1,600, down from a list price of about $2,300.
Lowe — Samsung 40" 4K Smart TV
Samsung Smart TV, $330, Lowes
Back on planet earth, there's another Black Friday TV sale that will land you a more modest model with discount of around 40 percent.
Lowe's will be selling a 40-inch Samsung smart TV — which it says was originally at $550 — at $330 for Black Friday, which represents a savings of over $200 compared to the initial price.
Like all smart TVs, the model features WiFi and bluetooth capabilities, and it also comes with another handy feature: a remote that will work with all your connected devices.
NewEgg — 49" Avera 4K Ultra HD TV
49" Avera 4K TV, $180, NewEgg
You can find another, relatively cheap option for a near-50-inch TV if you shop online during Thanksgiving week at NewEgg.com.
Between November 20-25, the site will be offering a 49-inch Avera 4K TV for $200, a discount of over 50 percent from the regular price of $450.
Happy shopping — and happy watching!