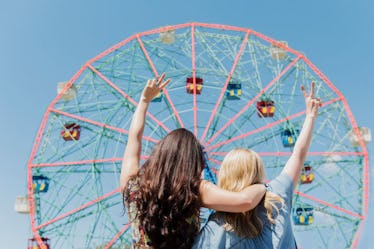 The Best Beaches In NYC You Didn't Even Know About, For A Sweet Escape
Beaches probably don't come to mind when you first think of The Big Apple. Most people flock to New York City to experience the city life. They have a goal to visit museums, watch shows on Broadway, explore iconic landmarks, marvel at the bright lights in Time Square, and try a variety of different cuisine. It's clear as to why NYC is the ultimate destination. However, many people don't know that New York City has beaches that are just waiting to be discovered. So, you'll be happy to know that you can still get your tan on during your city trip. Check out the best beaches in NYC (or close by) when you need a salty and sweet city escape.
Most of us love a good beach day, especially after several days spent wandering the busy streets of the city. Once you brushed up against enough shoulders in the subway and heard one too many honking horns, you'll be dreaming of the sea. I think we can all agree that the beach has a calming effect. The sounds of the ocean and the smell of salt water can make you feel at peace. Why not do something a bit different with your time in NYC? You'll be shore to thank yourself when you visit these beaches.