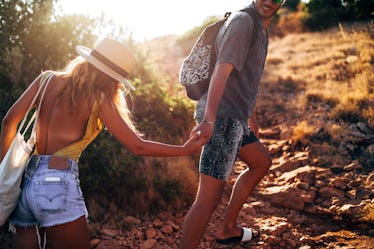 6 Unique Date Ideas For The Traveling Couple Who's Always On A Budget
I think we can all agree that there's nothing quite like a #baecation. You get the opportunity to make incredible memories together in dream destinations around the world. What could be better? Travel can be a great way to bond and learn more about that special person in your life. You'll experience the highs and lows of travel together, which will surely strengthen your relationship. There's no doubt that traveling as a couple can be amazing, but it may not always be in the budget. Thankfully, there are plenty of date ideas for the traveling couple, if you're on a budget.
If there's one thing that can hold you back from accomplishing your travel goals, it's likely money. Flights, accommodations, and activities can really add up. It would be ideal to travel at the drop of a dime, but it isn't reality. Fortunately, it's possible to fulfill your wanderlust without breaking the bank. You don't have to spend your life savings to adopt a traveler's mindset. As a couple, you can take mental trips that will hold you over until your next big vacay. You just need to tap into your curiosity and creativity to take affordable adventures with your favorite person.