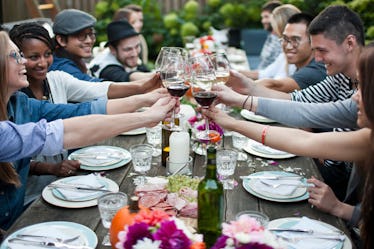 The 5 Best Airbnb Rentals To Host Friendsgiving Are Perfect For Your Whole Crew
Thanksgiving is right around the corner, and I couldn't be more grateful. It's the perfect time to catch up with loved ones, feast on endless mashed potatoes, and spread holiday cheer. Thanksgiving is usually spent with family, but why not plan a potluck weekender trip with your friends, too? Let's face it: Friends are basically family, and they deserve so much credit for all that they do. So, if you're feeling like taking a getaway with your crew, these are the best Airbnb rentals to host Friendsgiving this year.
It's one thing to be connected by blood, but it's another thing when you make the choice to be a there for someone through thick and thin. Friends understand us in ways no one else ever could, and I think most of us can agree that true friends are hard to come by — so why not give thanks?
Sometimes life can get busy, so a Friendsgiving is a great opportunity to bond and spend quality time together. You'll each serve your favorite dishes, toast to the epic memories you've made, and spend the nights counting your blessings. Consider bringing the celebration up a notch by hosting your Friendsgiving at a cool Airbnb rental. This will be just the beginning of an amazing new tradition.