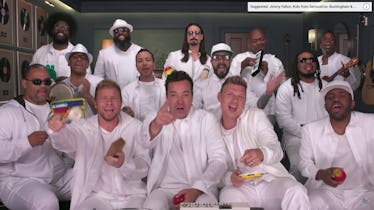 The Backstreet Boys & Jimmy Fallon Sang "I Want It That Way" With Kids' Toys & It's So Pure
YouTube
One of my favorite things Jimmy Fallon does on The Tonight Show is his Classroom Instruments series. You know, the one where his guests head into his music room to play one of their hit songs — along with Fallon and The Roots — using only classroom instruments? Think colorful maracas, plastic tambourines, and red apple shakers, which I didn't even know were a thing, but now totally covet. Anyway, the bit never fails to deliver, and The Backstreet Boys and Jimmy Fallon's "I Want It That Way" duet on June 28 was definitely a crowd pleaser. Seriously, it was legit amazing, you guys! Like, right up there with Camilla Cabello doing "Havana," Adele singing "Hello" — they had a banana shaker for that one! — and Migos turning up to play a version of "Bad and Boujee" with scissors, water bottles, scotch tape, and containers of paper clips.
The boys — Nick Carter, Kevin Richardson, AJ McLean, Brian Littrell, and Howie Dorough — were all decked out in white (just like in the video!) as they took on the unplugged remix of their 1999 hit song with a ukulele, xylophone, kazoo, and wood block. It was all so perfect. Dorough even switched up the lyrics towards the end to give Fallon a shoutout. "Jimmy! You are (you are you are you are)…" Cue the flawless five-part harmony!
Watch:
Are you feeling this as much as I am? Backstreet's definitely back, alright! I mean, it's clear that the Boys are totally having a moment right now. They took home the 2018 CMT Performance of the Year Award on June 6 for their CMT Crossroads performance of "Everybody" with Florida Georgia Line. They performed their new jam "Don't Go Breaking My Heart" during the ceremony, too. They just added 15 more tour dates to their residency in Las Vegas. And they went viral on social media a few weeks ago after they explained — at least sort of — the meaning of "I Want It That Way" to Chrissy Teigen.
"I never wanna hear you say, 'I want it that way' cause i want it that way," Teigen tweeted on June 1. "He doesn't wanna hear it because he is the one that wants it that way? He wants to be the one to say it? Also what is "it"?"
Such a good question. What IS the meaning behind the word "it" on that iconic BSB track? It's totally confusing, right? Luckily, the Boys themselves took to Twitter to clear things up by responding to the Lip Sync Battle star.
"Don't wanna hear you say that you want heartaches and mistakes," they wrote. "Or to be 2 worlds apart. We don't want you to want 'it' that way - that's the way we want it... for you to not want it that way."
OMG, I TOTALLY GET IT NOW! Except not. Because I still have no idea what they are talking about. Quit playing games with my heart, you guys!
Actually, it's all good. Because it turns out the Boys were apparently just trolling Teigen on Twitter with their answer.
"We've been asked that question about 337,000 times," Kevin Richardson told Billboard. "It's subjective. It's how you feel about it. It's how you interpret it. It's what it means to you, like all art should be." He then added that they "thought we'd have fun with [Chrissy] and just give her an answer back that really didn't mean anything."
"Sometimes the best answer is no answer at all," added AJ McLean.
Whatever. I'm going out to get myself an apple shaker.