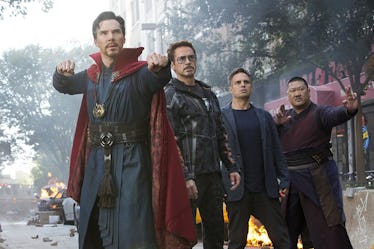 'Avengers: Infinity War' Just Broke Another Massive Record & OMG, I Can't Keep Up
Marvel Studios
Avengers: Infinity War is absolutely slaying at the box office as it breaks records right and left. In its first weekend, the Marvel flick took the title for largest box office opening all time, and in its second weekend, Avengers: Infinity War officially sailed over the $1 billion mark. After just 13 days in theaters, the Avengers: Infinity War numbers continue to make history, and it doesn't look like they'll be slowing down any time soon. Cheers to that, Marvel fans.
Just 13 days after its premiere, Avengers: Infinity War has already made $1.164 billion, according to The Hollywood Reporter. Imagine how much $1.164 billion could buy you in movie popcorn. That's like 50 swimming pools. Avengers: Infinity War officially hit the $1 billion mark on Saturday, its eleventh day in theaters — the shortest time in history for any film to make $1 billion. The Marvel movie nabbed the top spot from Star Wars: The Force Awakens, which reached the $1 billion mark in 12 days, and by doing so, joined an impressive list of billion-dollar movies including The Dark Night, Jurassic Park, and Toy Story 3. In addition to become the fastest film to gross $1 billion, Avengers: Infinity War also joined an exclusive club of five movies that made over $100 million in their second weekend by raking in a massive $112.5 million haul.
And now, it looks like Avengers: Infinity War is eyeing an even bigger target: the $2 billion club. Only three movies have ever grossed $2 billion — Avatar, Titanic, and Star Wars: The Force Awakens — but Infinity War seems to be well on track to becoming the fourth. If the superhero movie succeeds, not only would it be the "most ambitious crossover event in history," but also the first summer flick to reach $2 billion globally. Generally, summer hits make a ton of money, but it's hard for them to hit $2 billion because there's a new action or superhero flick released every week and competition is stiff. However, in the winter (when all three movies in the $2 billion club were released), there are usually only one or two tentpole films, making it easier for big movies to continue grossing money throughout January and into February — and that's how you hit the elusive $2 billion mark. The closest any summer film has gotten to the double-billion-club is Jurassic World, which came away with a more than respectable $1.671 billion.
But Avengers: Infinity War could defy these rules, and as it continues breaking records, that's becoming more and more likely. The Marvel movie has yet to premiere in China, a massive international market. When the movie premieres there on May 11, it's likely to make at least $300 million (Avengers: Age of Ultron made $240 million in China, and Infinity War is undoubtedly more popular), putting it just a few hundred million away from the $2 billion mark. Look at me, talking about hundreds of millions of dollars like they're nothing. Avengers: Infinity War, what are you doing to me?
With all this record-breaking going on, it's easy to forget that there's going to be another Avengers: Infinity War movie out in 2019. The still-untitled Infinity War sequel (aka Avengers 4) will pick up where the first film left off and will hopefully answer all of our burning questions about that crazy ending. It's safe to assume that Avengers 4 will make just as much money as its predecessor — I have to imagine that everyone who saw Infinity War will see the sequel — so it's possible that Marvel will be looking at a cool $4 billion once all is said and done.
Can we just call it a day and give Avengers: Infinity War all the awards? It would be so much easier than trying to keep up.