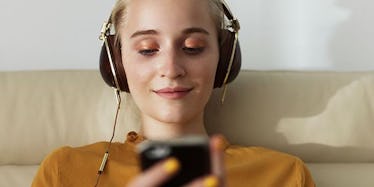 You Can Ask Your Amazon Alexa For Health Advice & It's As Creepy As It Is Helpful
Guys, I just got an Amazon Alexa for Christmas, and I'm low-key concerned that she's going to take over the world. I mean, this b*tch can do everything. I literally whisper her name under my breath and she's prepared as hell to help me with absolutely anything my heart desires. Did I mention she's always listening and knows my every move? Oh, and since Amazon Alexa's health advice feature became a thing, I basically never have to leave my house. Bless you, Alexa.
So basically, Alexa can give you pointers on pretty much anything you can think of in the health and wellness realm. For example, if you absolutely hate hitting up the gym, and you're more of a home-workout kind of person (same, girl), Alexa is here for you, my friend, because she doubles as a personal trainer. Or, maybe you keep telling yourself that you're going to meditate each morning, but you keep on making excuses. Alexa's got you covered there, too, with guided meditations right at your fingertips.
Even though I'm a bit creeped out by the fact that she butts into my conversations on the reg, it is super impressive to discover all the ways in which Alexa can help improve your health. The only thing she can't do is... actually do your workout for you. Yeah, I tried asking her that one, and I'm pretty sure I confused her, because how could a human being actually be that lazy? Sorry, girl.
If you want to take advantage of your Amazon Alexa's impressive health-related knowledge and extensive array of challenging workouts, here are seven ways she can help you out.