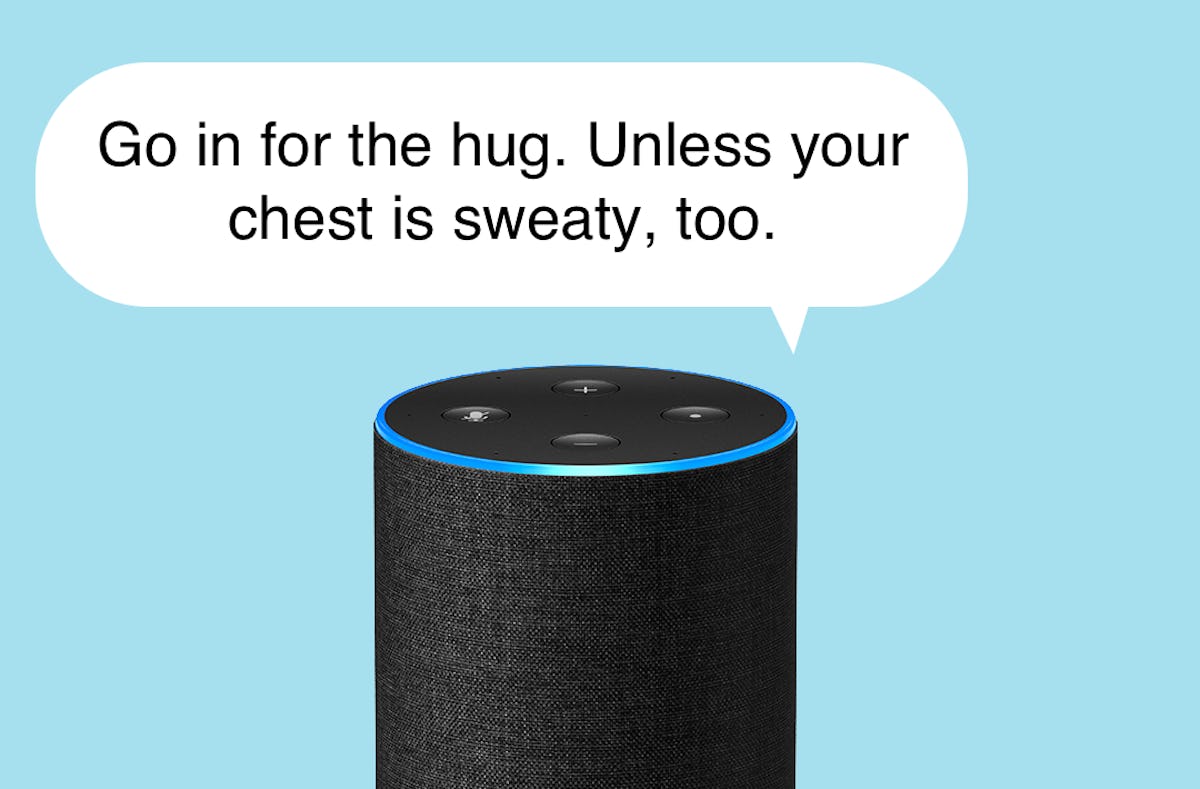 Amazon Alexa Can Now Give You Dating Tips & Advice, Because Of Freaking Course
Amazon/Match
Amazon's Alexa is pretty much as close to a real-life version of my personal favorite Disney Channel original movie, Smart House, as our society has come thus far. Alexa does everything for me. She tells me what time it is. She wakes me up in the morning. She reminds me of my favorite recipes. She orders my groceries. She keeps me updated on all of the latest news. She answers my obscure questions about random monkey facts. She reminds me of everything I have to do throughout the day. And now, Amazon Alexa's new skill is giving dating advice. So I guess we can say she officially does it all.
The new skill comes just in time, as Dec. 26 all the way through Valentine's Day is considered "peak season" for dating app usage, according to Match.com. In order to prep us for the busiest time of year for online dating, and for any dating we may continue to do when it ends, Amazon paired up with Match to create a whole new skill set for Alexa — something they're calling "Match's First Date What Ifs."
And the advice isn't just dumb advice some engineers made up in a lab because they thought it would be funny. No, Alexa's dating advice is coming straight from the largest survey of singles — Match's Singles in America Survey. The researchers behind the huge survey spent the past seven years asking over 35,000 to fill out polls describing how they feel about dating and relationships.
Wondering what sorts of questions you can ask the new dating savvy, Carrie Bradshaw-esque Alexa and Match (using the command "Alexa, ask Match...")? Don't worry. I've got just a few examples of sample questions you can ask her. And seriously, brace yourselves, because Alexa is about to drop some dating KNOWLEDGE.
So, you're imagining your date in your head. The night is winding down in your hypothetical scenario, and you two really hit it off. But wait, what if they want to have sex?
To this question, Alexa takes a very empowering approach to this scenario by responding, "If you do too, do them. If you don't, DO YOU." That's right. She said it.
OK, but hold up. What if I go to touch my date, and my hands are sweaty AF?
"Go in for the hug," Alexa advises. "Unless your chest is sweaty, too."
And these questions aren't Alexa and Match's only area of expertise. Wondering what to do if you go home with your date to, you know, but you realize they have roommates? Well, Alexa's got you covered: "They're going to hear everything, so make it worthwhile." Interestingly enough, this leads me to believe I'd rather not be roomies with Alexa.
Not only does Alexa give prime advice (for the most part), but she and Match have the stats to back it up, as mentioned above — and she'll tell you those. For example, if you're worried about choosing the wrong restaurant for a date, Alexa's got you there, too: "When in doubt, go for sushi," suggests Alexa. "It will boost your chances of a second date by 170 percent." So... sushi it is, I guess!
And we can't forget everyone's biggest concern: To make out, or not to make out? Well, according to Match and Alexa, "surprisingly, only 15 percent of men and 7 percent of women expect a hot and heavy make out session on a first date." See? You're in good hands.
In addition to answering any and all of your dating questions, the new feature also allows Alexa to provide you with daily "dating motivation." For example, in the morning, along with the weather and a quick news update, Alexa will remind you, "If the feeling is mutual, the effort will be equal, so don't try too hard. Just be you." AW, THANKS, ALEXA! Now, I really know that I'm good enough.
Before I let you go, can we please take a moment to acknowledge the fact that we have reached a point in time where a robot (OK, technically artificial intelligence) is literally giving us dating advice?
Check out the entire Gen Why series and other videos on Facebook and the Bustle app across Apple TV, Roku, and Amazon Fire TV.
Check out the "Best of Elite Daily" stream in the Bustle App for more stories just like this!