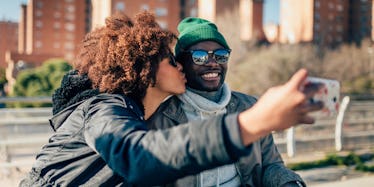 The One Piece Of Advice Matchmakers Want Every Single 20-Something To Know
VICTOR TORRES
There's no easy way to say it: Dating is hard. Sure, you can probably go to a bar or swipe on Tinder to find a random one-night stand if you really wanted to. But going on actual dates, meeting actual people, and maybe, possibly committing to someone forever? That can feel impossible.
Providing dating advice for men and women in their 20s can sometimes feel impossible, because we often stand in our own way on our search for finding the right person. We believe we need to have crazy sparks with someone on a first date, so we dismiss awesome people because we don't become obsessed with them right away. We're acutely aware of all the options out there, so we're tempted to just look for someone else when we get bored of whomever we've been seeing. We focus too much on the sex, so we realize too late that we aren't as compatible with someone as we thought we were.
In other words, we need all the help we can get. That's why eight matchmakers have come together to give all of us one vital piece of dating advice. Take notes.
Don't Expect "Chemistry" To Instantly Pull You In
Stop expecting 'chemistry' to pull you in so instantaneously. We millennials live in a world of instant gratification where we have what we want with the snap of our fingers. Unfortunately for us, love and dating just can't work that way. Some of the best relationships I've set up started off with pretty unremarkable first dates, but 20-somethings are so quick to move on if they don't feel fireworks on date number one. Fact is, the person you end up with may not be in the package you expected him/her to be in, so give everyone a fair chance even if you don't immediately feel that spark! Chemistry can and does grow.
— Erika Kaplan, Senior Matchmaker of Three Day Rule
Take Dating Seriously
My number one piece of advice to singles in their 20s is to take dating seriously. Every single encounter, every single first date, every single relationship. Even if you are not ready to get married in your earlier 20s, mid-20s or even late-20s, you never know if this is the one. You could meet the one and date him or her for a few years and then get married when you are ready. Or, even more surprising, you could meet someone so special and perfect for you, that even if you were sure you're not ready to get married, or not dating for marriage, you find yourself quickly changing your mind when you realized you met the best thing that ever happened to you. If you approach dating casually, you will never give anyone enough of a chance to know if they could be the one and will dismiss so many incredible people. Moreover, unfortunately, the rise of the dating app and swiping has made dating culture "disposable," meaning you can always swipe again and just find another one. It is extremely unhealthy to approach relationships this way (and can even trickle into your professional life and ruin your professional network), and then, when you finally do decide you are ready, you will not know what is involved in truly dating and how to have a relationship.
— Lori Salkin, SawYouatSinai.com Senior Matchmaker and Dating Coach
Don't Take True Love For Granted
When [you] find that true love, don't take it for granted. Some people wait all their lives to find that one true love. Treat it like the beautiful gift that it is. Learn to compromise and let the small things go, because if you focus too much on being right all the time, you really put a damper on the relationship — being mad or angry all the time is no fun. So let the small stuff go, for sure.
— Karenna Alexander, Matchmaker and Dating Coach
Smart, Successful, Geek Guys Make Better Husbands Than Hot, Bad Boys
The smart, successful, geekier guys make better husbands than the hot, bad boys. Make sure that if you start dating a 'bad boy,' you don't waste valuable time when you realize he's not in it for the long haul. Plenty of those bad boys are still single at 40, or have gone through several divorces. Look at Miranda Kerr; [her] first husband is a "bad boy," [and her] second husband is a rich, nice, geeky guy.
— Stef Safran, Matchmaker at Stef and the City
Wait To Have Sex Until You Have Defined The Relationship
Wait to have sex until you have DTR'd (defined the relationship). It's so important for 20-somethings to understand that if they are looking for a boyfriend/girlfriend committed relationship, waiting to have sex is the best way to go. When women have sex, women release a spike of a hormone called oxytocin, which is known as the 'cuddle and bonding hormone,' where women are physiologically bonded to the guy, even if he is a douchey f*ckboy. Oxytocin is also the hormone that is released when women give birth to a baby, which causes the intense bond between mother and child. The problem with oxytocin is that it doesn't discriminate. It doesn't care if the guy you just slept with is also sleeping with five other side chicks or chronically unemployed. By waiting to have sex until you have objectively qualified this guy as a boyfriend for you, who has proven himself through consistent behavior and [is] committed to being with just you, you are saving yourself from a whole lot of heart break from boys you will become prematurely infatuated with.
— Alessandra Conti, Top LA Matchmaker at Matchmakers In The City
Happiness Comes From You
Happiness comes from you. Don't wait for someone else to come along and make you happy. Work on yourself and your own life, and wait for the person who adds to the happiness you already feel. When you are both in that place, you will not only be ready for a relationship, but it will be more likely to succeed.
—  Julia Bekker, Matchmaker and Dating Coach at Hunting Maven
Recognize Your Signature Dating Mistake
You have a signature dating mistake that is all yours and has your name written all over it. All your friends and family know your relationships by this mistake. It defines the ending and duration of the relationship. It could be that you always date guys who cheat, guys who don't commit, guys who are workaholics or whatever. You attract a certain type. You are going to repeat this behavior over and over again unless you recognize it. One thing I find about a lot of older women is that they are still making their signature dating mistake in their 50s, and they are still unhappy. They managed to marry, but they have patterns, and the marriage and demise even fit the pattern. I would tell all women in their 20s to figure it out, knock it off, and learn from this mistake, so you can stop repeating this behavior that is leaving you so unhappy and unlucky in love. If you have to go to a therapist, a dating coach, or just poll your family and friends to find out what it is. Become more aware of this weakness and don't date anymore men who fall into this category. This way you can move beyond and find happiness. The sooner you do this, the better.
— Susan Trombetti, Matchmaker at Exclusive Matchmaking
Know You Are Worthy Of Love
YOU ARE INTERESTING. Period. You don't need to have a signature look, definitive hashtag, or 22.4K followers on Instagram to remind you that you are worthy of love just the way you are... now.
— Alyssa Bunn, Professional Matchmaker at Tawkify and Creator of Love + Co.
Check out the "Best of Elite Daily" stream in the Bustle App for more stories just like this!