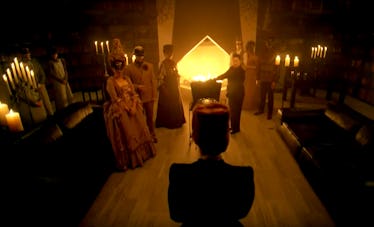 The 'AHS: Apocalypse' Episode 3 Trailer Shows A Horrifying Halloween Party At Outpost 3
FX
After that completely shocking new episode on Wednesday night, American Horror Story fans are more amped than ever to get to the third episode of Apocalypse next week, and thankfully, the series gifted us with a short sneak peek. The AHS: Apocalypse Episode 3 trailer is all about a Halloween party at Outpost 3, and obviously, that time of year has some pretty loaded implications in the AHS universe, so fan theories are already jumping out left and right. Check out the teaser for next week's new episode, entitled "Forbidden Fruit," below.
Spoiler alert: This post will contain plot details from the first two episodes of American Horror Story: Apocalypse. Although showrunner Ryan Murphy promised that this season would include pretty much every main character from the casts of past seasons Murder House and Coven, we sadly have yet to see any witches or ghosts. Wednesday night's second episode of the season totally teased viewers with the return of Tate Langdon's Rubber Man outfit and Coven's own Stevie Nicks playing on the radio, but still, no ghosts or witches. The only Murder House character that we have seen so far is Michael Langdon, who grew up from being the antichrist baby into a full-fledged adult antichrist, bent on torturing the few remaining survivors of the human race.
But, Episode 3 of AHS: Apocalypse seems to be promising the return of a bunch of old favorites. The new clip reveals that next week's episode will focus on a Halloween party that Wilhemina Venable (Sarah Paulson) throws for the Outpost 3 inhabitants. Check out the short preview clip for yourself, and then we can get into everything.
The Halloween party looks like it will be particularly terrible for Mallory (Billie Lourd), who we have not seen too much of since she became a subservient Gray at Outpost 3. The trailer shows Mallory screaming, crying, and struggling in a bobbing for apples bucket. And while all this is going on, Michael Langdon is of course still skulking around, draining the venom from some of the newly arrived snakes. That definitely can't be good...
But the real interesting part of the new trailer is the fact that Episode 3 will be taking place on Halloween. As American Horror Story fans well know, Halloween is a special time for the show, especially for the ghosts of Murder House. It is the one day of the year where the Murder House spirits are free to leave the house and roam the earth as they please. When Venable mentions that it is Halloween in the episode trailer, most fans are probably thinking that this will finally be the week when we see the Murder House spirits confirmed to appear in this season: Vivien and Ben Harmon (Connie Britton and Dylan McDermott), Violet Harmon (Taissa Farmiga), and Tate Langdon (Evan Peters).
Of course, some fans think we may have already seen Tate's return in Episode 2's Rubber Man suit, but that seems more likely to have been some sort of vision or demon that Michael conjured in order to trick Mr. Gallant. Now that the ghosts will be able to go anywhere they want, Episode 3 looks like the perfect time to stage an awkward family reunion for Michael Langdon.