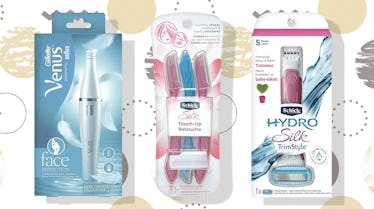 The Best Hair Removal Products & DIY Methods For People With Sensitive Skin
Elite Daily/Amazon
Risks abound for people with sensitive skin who want to remove unwanted facial or body hair at home, but by choosing safe, quality tools and using gentle products (such as moisturizing shaving lotions and fragrance-free hair removal creams), you can accomplish the job without causing irritation. When it comes to the best hair removal methods for sensitive skin, you've got a few options: shaving, tweezing, or using epilators and depilatories. Each one has its own pros and cons, which we'll get into more, below.
Shaving is relatively quick, easy, and affordable, but to prevent irritation, you'll need to change out your razor frequently and use a shaving lotion designed for sensitive skin. Tweezing is good for grooming smaller areas, like your eyebrows, but "if you don't use a high quality tweezer, you may risk breaking the hair which could in turn become an ingrown hair that grows back in the skin," explains European Wax Center Education Manager, Gina Petak, with whom Elite Daily spoke for this article. Depilatory creams are a fast, easy way to remove large areas of unwanted hair, but the chemicals in those creams have the potential to burn or irritate sensitive skin, Petak explains.
Petak says since the skin on your face is especially delicate, using depilatories there may not be a good option. Epilators can sting, but if you choose one that can be used while you're in the bath or shower, that can help decrease the discomfort. Petak says that waxing gives you the smoothest skin; not only does it remove hair from the root, but the process provides some physical exfoliation at the same time. However, Petak isn't a fan of at-home waxing because of the potential for skin damage; plus, it's a messy process. Be very careful when proceeding with this at-home method, or better yet, get it done professionally.
To discover the best at-home hair removal products for sensitive skin, scroll on.
We only recommend products we love and that we think you will, too. We may receive a portion of sales from products purchased from this article, which was written by our Commerce team.