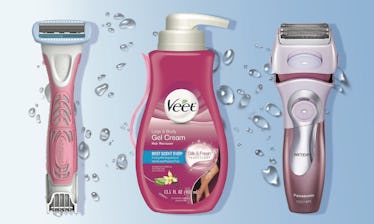 From Lasers To Epilators, These Are The Best Hair Removal Devices On Amazon
Elite Daily/Amazon
If you choose to remove hair on your face and/or body, you're probably already aware of the many different methods of doing so: waxing, shaving, plucking, threading, lasering, et cetera. But we're well into the 21st century now, and you no longer have to shell out tons of cash on waxing appointments and professional laser treatments to get the job done. From shavers to epilators to teeny tiny facial razors, many of the best at-home hair removal products work just as well as their pricier, in-salon counterparts. Ahead, a roundup of the eight most effective, user-friendly picks.
Before you get to shopping for your new grooming products, keep in mind that at-home hair removal is often a delicate business. That means, if you're going to try out a hi-tech tool like a laser or an epilator, or use something a little bit less straightforward than a razor (such as a waxing kit or hair removal cream), it's imperative that you read the instructions thoroughly. Most importantly, make sure you're aware of the areas on which you can and can not use said product to avoid irritation or injury.
With that in mind, scroll on to discover eight of the best hair removal products you can use at home, whether you're looking to touch up your eyebrows, trim your bikini line, or laser off your leg hair.