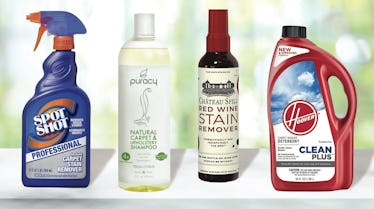 From Wine To Pet Accidents, Reviewers Call These Carpet Stain Removers "Magic"
Elite Daily / Amazon
Rugs and carpets make your home more comfortable, but they're also some of the toughest things to clean when accidents inevitably happen. Fortunately, the best carpet stain removers are specifically designed to tackle these messes without complicated rinsing. To find the best stain remover for you, however, first figure out the type of stain or stains you're trying to get out.
Stain removers typically contain some kind of surfactant, enzyme, or emulsifier. These ingredients coat or break down the stain so that it's less securely bound to the carpet fibers. Different formulas use different ingredients, and unfortunately, they're not always disclosed. Many products will market themselves as fix-all solutions that work on almost any substance, whether that's dirt, coffee, red wine, blood, or pet accidents. That said, consulting the reviews will tell you exactly what kind of stains they're effective on from the point of view of those who've actually used them at home.
Whether you're struggling with evidence of yesterday's happy hour or some mud your dog tracked in six months ago, these are the best carpet stain removers Amazon has to offer.
We only recommend products we love and that we think you will, too. We may receive a portion of sales from products purchased from this article, which was written by our Commerce team.