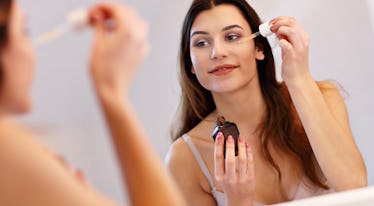 Get Your Glow On With The Best Vitamin C Serums On Amazon (All $25 Or Less!)
Kalim/Fotolia
Vitamin C is a powerhouse ingredient with the ability to boost collagen production, even skin tone, and fight sun damage. However, vitamin C is a notoriously unstable ingredient and in the wrong formulation will become much less effective soon after you open the bottle. That's where the best vitamin C serums on Amazon come in.
These bottles not only offer a healthy dose of vitamin C, but have also found ways to keep it potent. And since your skin needs more than one ingredient to keep it happy and glowing, the top picks also feature other skin-loving actives like moisturizing and calming aloe, hydrating hyaluronic acid, and healing vitamin E.
While you'll find vitamin C serums with 25 percent and 30 percent vitamin C, more is not necessarily better. Research says that maximum absorption happens at 20 percent, so anything more than that and you're looking at more irritation than results. Those with sensitive skin will want to start at an even lower dose to avoid redness and burning. Luckily, studies have shown that as little as 0.6 percent is all it takes to enjoy the antioxidant benefits of this powerful ingredient.
If you're ready to start glowing, read on for the best vitamin C serums on Amazon — all of which have legions of fans without a hefty price tag.