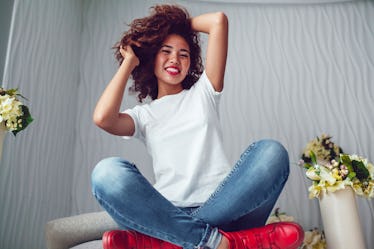 Don't Settle For Less: These Are The Best Quality Women's Tees On Amazon
Regardless of your personal style, I'm willing to bet you'll get plenty of use out of the best quality women's T-shirts. Whether you prefer crewnecks, V-necks, or ones made for exercise, there are a wealth of fits and styles out there to accommodate any need.
The most important feature to consider when choosing the ideal tee is the fabric, as that'll help you quickly determine whether you're dealing with superior or subpar quality. For reference, the best T-shirt fabrics are typically cotton, polyester, and rayon. Cotton is great for everyday wear and will provide you with a breathable, lightweight feel. Polyester and rayon, on the other hand, are smooth, moisture-wicking fabrics that are less prone to wrinkles and make solid workout choices. Lastly, as a bonus — especially if you're after a bit of stretch! — keep your eyes peeled for spandex.
To help inform your search, I've put together a list of Amazon's best quality women's T-shirts. My picks feature a variety of fabrics, fits, and styles — and they're sure to freshen up your wardrobe. Keep reading to find the one for you (whether it's for work or workouts), then take a look at even more Amazon-available tee options.