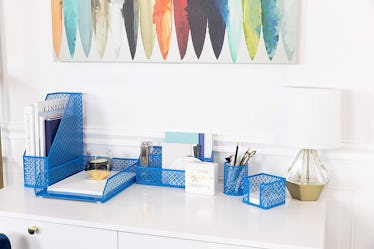 The Best Way To Declutter Your Workspace? Get One Of These Desk Organizers ASAP
It can be so easy to let your desk get cluttered in the chaos of daily life, but the best desk organizers can bring order to your workspace. Staying organized can offer a range of health benefits, including boosting your energy and reducing stress — plus, it's just plain convenient.
When you're shopping for a desk organizer, the most important question to ask yourself is: What specifically needs to be organized?
If you need to wrangle lots of different office supplies, consider getting an organizer set or a single organizer with multiple compartments for handily sorting large and small items.
You can also find organizers designed for more specific uses, such as a file organizer, which can help you organize extra paper, large notebooks, and (you guessed it!) files.
A pen and pencil holder is best for keeping your writing utensils collected in one place on top of your desk.
If you want to organize the interior of your desk, a drawer organizer made up of multiple smaller compartments can keep your desk drawers from looking like junk drawers.
An organizational system works best when you can quickly find the things you need, particularly when you're working with small, easy-to-lose items like pens or paper clips. For this reason, desk organizers that are made of clear plastic or wire mesh are particularly helpful, since they allow you to see what's inside from all angles.
As with any home product, you should measure the dimensions of your space — seriously, don't be afraid to bust out the measuring tape! For desktop items, take note of the length and width of your desktop, as well as the height of anything that might get in the way of your organizer, like a wall-mounted shelf. If you're purchasing an organizer for a desk drawer, pay particular attention to the height of the drawer to make sure the organizer won't interfere with your ability to slide it shut.
From an all-in-one organizer to an organizer set, here are six of the best desk organizers to transform your workspace into a clutter-free zone.
We only recommend products we love and that we think you will, too. We may receive a portion of sales from products purchased from this article, which was written by our Commerce team.