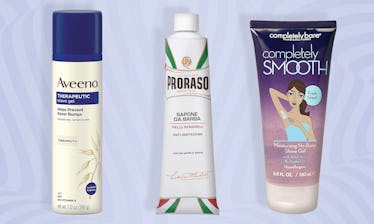 5 Gentle Shaving Creams That Won't Irritate Sensitive Skin
Elite Daily/Amazon
If you choose to shave, it's an essential step to lather up with a good cream first. But if you have sensitive skin, choosing the right shaving cream can mean all the difference between having smooth, soft skin or red, irritated bumps. Typically, the best shaving creams for sensitive skin will be loaded with even more moisturizing and soothing ingredients than your average formula. Ahead, a guide to the top sensitive skin-friendly formulas to keep in your shower.
Before you choose a shaving cream, it's important to first invest in a quality razor for sensitive skin. As a general rule of thumb, the more blades, the better (look for a razor with four or five blades). This puts less pressure on your skin, and it also helps remove hair on the first go so that you don't have to keep shaving over the same area, which can further aggravate skin. Many razors for sensitive skin are designed with a moisture strip that contains hydrating and soothing ingredients to help prevent irritation. You'll also want to make sure you're regularly changing your razor blade (about every five to 10 shaves), because using a dull blade will only contribute to redness, or worse, potentially even cause an infection.
Once you're ready to shave, be sure you wait until the end of your shower or about 15 minutes in, as the warm water will soften hair and open up the follicles to make shaving easier. You'll also want to remember to exfoliate your skin two to three times weekly to prevent ingrown hairs. For sensitive skin types, be sure to avoid any harsh scrubs that contain ingredients like nut kernels, which can tear at skin and cause even more irritation. After shaving, always follow up with a gentle, but nourishing body lotion to restore moisture.
Now that you're armed with a few key shaving tips, scroll on for the best shaving creams for sensitive skin.