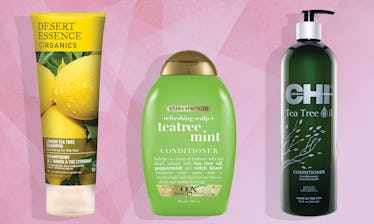 These Balancing Shampoos & Invigorating Conditioners Were Tailor-Made For Oily Hair
Elite Daily/Amazon
Almost everything in life has its pros and cons, including hair types. If you have finer hair, chances are, you can pretty much just wash your hair and be out the door with minimal styling, which is always a plus. But on the downside, you also probably find yourself washing your hair daily to avoid the greasy roots that can seem to show up almost instantly. While there are a number of factors that can help decrease the grease, starting in the shower with the best shampoos and conditioners for oily hair is key.
Washing your hair every single day may seem like the easiest solution to getting rid of oily roots, but it can also make things worse. You can help train your hair to look less greasy over time by washing it less often. Start by trying to cut back on shampooing to every other day, and as your hair adjusts over the course of a few months, you can stretch it even further to every two or three days. And while you wait for oil production to balance out, you can hide the grease with dry shampoo (try using it right after your hair has dried to absorb oil as soon as it appears) or get creative with some of these updo how-tos.
To help manage your oily hair, you'll also want to make sure that when you do wash, you aren't relying on products that are too harsh, such as an aggressive clarifying shampoo. Even oily hair needs in-shower products that contain moisturizing ingredients to prevent stripping your scalp of its natural oils (and thus causing it to produce more oil to compensate). But products that are intensely nourishing or intended to add shine can often be too heavy for oily hair types. Instead, look for a shampoo and conditioner that combines moisturizing ingredients, like glycerin and jojoba oil, with ingredients that combat grease like tea tree oil.
There are other ways to help make your hair less greasy, too. One of the most important things you can do is pay attention to your in-shower routine. Using conditioner all over your head can cause greasiness, so consider only applying it from the mid-lengths to the ends of your hair. Also, after you've shampooed and conditioned your hair, rinse it thoroughly; any leftover product will cause your hair to look greasy as soon as it's dry.
To help balance out the grease, here are five of the best shampoos and conditioners for oily hair.