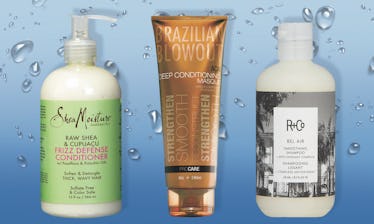 5 Frizz-Fighting Shampoos & Conditioners For Smoother, Healthier Hair
Amazon/Elite Daily
As someone with frizz-prone hair who lives in a tropical climate where humidity is the norm, I've had to do a lot of product-testing to figure out the best shampoos and conditioners for frizz. While frizzy hair works for a lot of people, my hair naturally dries into an unruly, uneven pattern instead of waves or curls, though I've found that using the right products in the shower can make a big difference. Ahead, I share the best shampoos and conditioners I've found that combat frizz, dryness, and generally hard-to-manage hair.
But first, a few tips on how to find a frizz-fighting hair product that works. As far as shampoos go, avoiding sulfates is a good idea, since there is some evidence that they can be drying, which can lead to increased frizziness and dried-out curls. In terms of conditioners, you'll want to use something that offers heavy-duty moisture, which is the key to keeping your hair smooth and soft. If your hair is naturally dry or coarse, you might want to consider using a hair mask in place of conditioner, since hair masks are basically just amped-up versions of conditioner anyway.
Also, reevaluate the rest of your hair care routine. Avoid using hot tools whenever you can, since hair that's been damaged by heat (or chemicals) is more susceptible to frizz. Try using an oil and/or leave-in conditioner on your hair when it's damp, and find a serum or lightweight spray that you can use on dry hair to smooth flyaways. Some hair stylists suggest investing in a microfiber towel to dry your hair, while others recommend sleeping on a silk pillowcase: both of these soft materials can eliminate frizz by preventing friction.
Now that you're armed with a few tips on how to prevent frizz, check out five great smoothing shampoos and conditioners you can buy online.