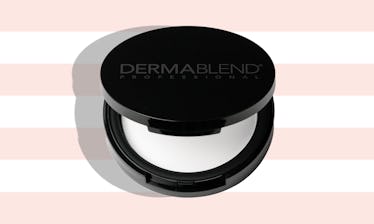 If You Have Oily Skin, Meet Your New Favorite Setting Powders
Elite Daily/Amazon
When you have oily skin, getting your makeup to stay put can be a challenge. That's why it helps to introduce one of the best setting powders for oily skin into your routine. That way, no matter what activities you have in store for your day, your makeup won't fade or slide down your face even if oil builds up on the surface of your skin.
As you look into the best setting powders for your skin, you'll see two different types emerge: loose and pressed setting powders. What's the difference? Loose powder has long been a recommended option for people with oily skin, as it absorbs the excess sebum that oily skin produces. However, it can be messier to apply than a pressed powder. And while pressed powder is great for on-the-go touchups, it's usually a heavier formula that features more oils than loose powders.
You'll also want to ask yourself: translucent or tinted? For a surefire powder that works on most skin tones, a really good translucent powder can provide a natural finish to your overall regardless of skin tone. Tinted setting powders, however, provide a more even tone to your overall complexion and can help eliminate redness if you have sensitive, oily skin, or other skin concerns.
But to make your decision even easier, I've rounded up the best setting powders for oily skin on this list. You'll find six sworn-by options below.