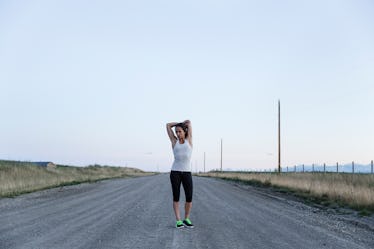 Chafing Season Is Upon Us, Which Means You Need These 5 Products In Your Life ASAP
Nothing ruins an amazing, confidence-boosting outfit faster than painful chafing. The weather outside finally broke through the 80s, so of course you threw on that flowy skirt you just got at the thrift store last weekend. Chafing always seems to happen right when you least expect it — which makes sense, since it's really just sweaty skin rubbing together, and perspiration isn't really something you actively think about, you know? The truth is, the nightmare of chafing spares no one, so literally everyone could use some insight on what the best products for chafing actually are — you know, other than those baby powder or petroleum jelly tricks.
Overall, when you're trying to stop chafing, the goal is to minimize the moisture on your skin, because it's the combination of that, and "repeated motions of the body," according to Healthline, that can lead to that painful rubbing sensation. In other words, you're just walking around in your awesome new skirt, minding your own business, and suddenly your skin and sweat decide to combine and create a storm of terror for your thighs — while the subway's still three blocks away.
The only silver lining here is that there really are tons of different products for chafing out there, and all of them work to address different parts of the problem, from before it actually happens, to after you've already gotten red, irritated skin, and need to find something to soothe it. Sure, chafing isn't exactly life-threatening, but it's still really painful, and it can even cause you to start bleeding if it gets bad enough. Bottom line: It's worth investing in some good products that'll save your skin from chafing, and soothe your pain even when it does happen. Here are a few of the best ones to check out.