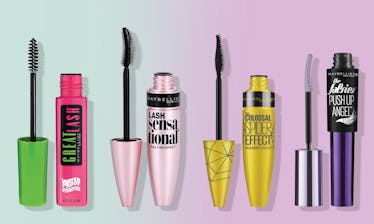 These Are Maybelline's 5 Best Mascaras — & They're All Under $10 On Amazon
Elite Daily/Amazon
Secretly, I've never understood spending money on pricey prestige mascaras. Sure, the tubes often look fancier, but it's only in rare cases where a product actually works like magic (hi, Dior Iconic Overcurl). That's why drugstore brands, like Maybelline, have been a longtime go-to for me. The best Maybelline mascaras for your lashes work just as well as their prestige counterparts, and for less than $10 a tube, you don't have to feel obligated to use every last bit (meaning you can get a new mascara every three months like the American Academy of Ophthalmology recommends to avoid risk of infection).
A good mascara should add both length and volume (and many of the picks on this list do), but it's also quite common for them to focus on one aspect, which usually has to do with the wand design. Unsurprisingly, mascara formulas have to undergo more rigorous testing than your average makeup product because of its proximity to your eyes. Since that means brands will have to spend more time and money developing and testing mascaras before they hit the shelves, the formulas are largely the same.
That's why brands like Maybelline have to get creative with their wands. There are two main types of wands: fiber bristles, which are used to create more volume, and plastic-mold bristles, which are generally used to create more length. But you'll find even more variety with the way those bristles are arranged. More densely packed bristles allow the wand to hold onto more product, building fuller, thicker-looking lashes in the process. If the brush has thinner, more finely spaced bristles, that allows it to really lengthen from root to tip. You'll also notice many wands designed with a curved shape to help lift and curl your lashes.
Ahead, you'll find five of the best Maybelline mascaras