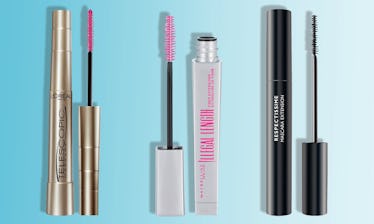 Take Your Lashes To New Heights With These 5 Incredible Lengthening Mascaras
Elite Daily/Amazon
It's an essential part of every mascara's job to add noticeable length to your eyelashes. Yet somehow, there are plenty of options out there that fall short in this department. Luckily, you don't have to go to great lengths to get lashes that are dramatically longer, thanks to the best lengthening mascaras on this list.
You can, of course, identify a mascara that's specifically suited for lengthening by looking for the obvious indicator right in the mascara's title. But if you flip the package over, a quick scan of the ingredient list should show polymers and/or fibers, which help elongate lashes. If you like the look of lash extensions but can't commit to the upkeep, try a mascara that uses fiber extensions instead. The tiny fibers in the formula aren't even noticeable when you whip out the wand, but once you've coated your lashes, you'll notice a dramatic difference.
But don't rely on the formula alone. In fact, the design of the brush is often even more important. While plastic-mold brushes tend to be preferred for lengthening, wire brushes can help boost both length and volume. The most important factor is that the brush is thinner in shape and has bristles that are finely spaced. This allows the brush to reach the root of the lashes, separating and extending each hair as you sweep it through to the tip.
Now that you're armed with some basic facts, check out these five lash-lengthening mascaras below.