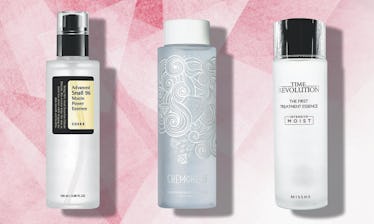 Dry, Sensitive, Or Acne-Prone, This Is Why An Essence Belongs In Your Skin Routine
Amazon/Elite Daily
Choosing the right products for combination skin can be tough. While you want to deeply hydrate the parts of your face that are dry, you also want to keep the oily parts like the T-zone from looking greasy. The best Korean essences for combination skin will balance your skin and keep you glowing but never shiny.
Why you'll want it: The main goal of an essence is hydration, and the liquid textures make them perfect for sinking into the skin without leaving a film on top. Layering is one of the best ways to keep combination skin balanced, and a great essence will also help your other products work better.
What to look for: Beyond hydrating, the best essences can fight a variety of skin concerns like texture, redness, or acne with well-researched hero ingredients like moisturizing hyaluronic acid, soothing green tea, and pore-minimizing and brightening niacinamide.
How to use it: After cleansing (and toner, if you choose), pour a small amount of essence into your palm or onto a cotton pad and smooth it across your face. Lightly patting it in is a popular technique. Next, follow it up with the serums and moisturizers you'd normally use.
Western brands have seen how effective these bottles are and have started adding essences to their skin-care lineups, but Korean ones still offer the unbeatable mix of cutting-edge technology and reasonable prices.
Whether your skin is sensitive, acne-prone, or could just be evened out, one of the best Korean essences for combination skin will help balance it. Shop them here on Amazon, where you'll find some of the best prices, too.