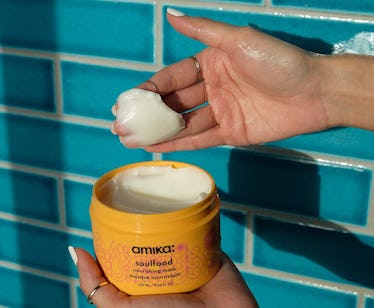 From Serums To Masks, These Are The Best At-Home Treatments For Damaged Hair
If you're anything like me, your skin-care routine gets all the glory while your hair habits are a little lacking. But between heat styling, UV damage, coloring treatments, and general wear and tear, your hair is subjected to just as many (if not more) stressors as your skin. That's why it's so important to use one of the best hair treatments every once in a while, just as you would a face mask. And luckily, these at-home options don't even require a trip to the salon.
Whether you're trying to revive hair that's been damaged or you're just looking to improve your hair's overall health, the ingredients you want to look for are largely the same. Like an amped-up version of your conditioner, a good hair treatment will include several multitasking ingredients to protect, strengthen, and hydrate your hair. Common moisturizing ingredients to look for include sweet almond, jojoba, and argan oils, and panthenol (aka pro-vitamin B5). Proteins, like keratin (which is the type of protein your hair is mostly made of) are another go-to used in hair treatments. Other popular proteins include wheat, silk, and soy — all of which offer slightly different types of support, but generally, will help strengthen and protect hair, increase its elasticity, and enhance shine.
The application method is where hair treatments vary the most. A hair mask that you apply in the shower (directly after shampooing your hair and, in most cases, in place of conditioner) is the classic choice. But you can also opt for a leave-in treatment, or, an overnight treatment that can be washed out the next morning.
Whether you're looking for a mask, a serum, a leave-in, or something else entirely, you'll find it in this roundup of the best treatments for stronger, healthier hair.