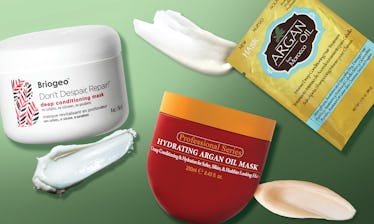 5 Of The Most Nourishing Hair Masks That You Can Use Overnight
Amazon/Bustle
Hair masks are like face masks in that they're an important step in any well-structured beauty routine, but most people don't really want to take the time to do them. Not everyone has the time to sit with their damp hair saturated with product for 20 minutes before getting back into the shower and rinsing it out. But if you're dealing with frizz, a lack of shine, dryness, or damage, a hair mask is an important step in your routine — and it doesn't have to take hours to do. Enter: the best overnight hair masks that treat your hair while you sleep.
Now, let me get one thing out of the way — most hair masks can be used overnight. The one exception to this rule is protein-laced masks, like an Olaplex treatment. If you put too much protein on the hair at once, it can cause breakage, so you're best sticking to hydrating masks if you're going to let it soak up overnight.
A few tips for applying your mask: Wring out your hair so that it isn't soaking wet, and then work the product evenly through your hair. I like to use a wide-toothed comb to brush the mask from root to tip, ensuring that every part of every strand is covered. Then, pop on a processing cap, shower cap, or hair scarf to protect your pillow from the product. I also like to lay a towel down over my pillow for added protection.
Easy, right? Ahead, find the five of the best hair masks you can use overnight.