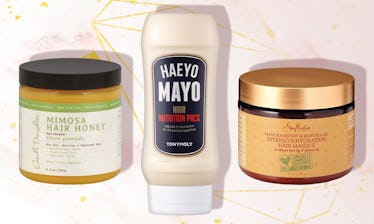 Fight Dry Hair & Frizz With These 5 Deeply-Moisturizing Hair Masks
Elite Daily/Amazon
If you have dry hair that's prone to frizz, you've probably done your fair share of experimenting with leave-in sprays and oil serums. But handling frizz isn't just about the styling products you use; it all starts with what you put on your hair while it's still wet. While the shampoo and conditioners you use are certainly important, one of the best ways to prevent frizz from occurring is with a hair mask. Since one of the main causes of frizz is a lack of moisture, the best hair masks for frizzy hair will boast heavy-duty moisturizing formulas that restore hydration.
Ahead, you'll find five of the best hair mask formulas on the market that work specifically to combat frizz, smooth and soften hair, and repair damage (since damaged hair is much more susceptible to frizz to begin with). For the best results, you should these masks at least once a week — but if your hair is extremely dry, coarse, or unruly, you can use a mask instead of conditioner whenever you wash your hair. (You can also sleep in a hair mask on occasion — just wash it out in the morning, and experience the softest hair of your life.)
Once you've selected your mask of choice, check out these smoothing serums and styling products that help combat frizz. With this combination, you should be on your way to healthier, more manageable hair in no time.