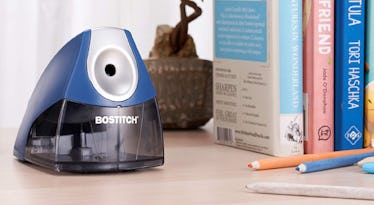 For Sharp Pencils Without The Effort, You Can't Beat These Customer-Approved Sharpeners
Amazon
For sharp pencils in a snap, there's no shortage of easy options out there. The best electric pencil sharpeners get the job done — fast. That said, with so many different designs and brands, it can be difficult to choose just one. In order to narrow down your options, you'll want to consider the power source, the size, and the pencil compatibility.
Electric pencil sharpeners often use one of three different power sources: a plug, standard batteries, or a rechargeable battery. A plug (which is usually a standard AC wall plug, but there are also options which use USB) limit your distance with a cord, but they'll never run out of power. Battery-operated sharpeners are cheap and portable, but they can eat through power fast — and rechargeable units are less common and more expensive, but they don't have batteries or wires.
The size is another important factor. Typically, the bigger it is, the more power it'll have and the more shavings it'll hold at once — but it'll also take up much more room on your desk. Finally, make sure that the sharpener is compatible with your chosen type of pencil: Most of them are designed to sharpen the standard #2 pencil to perfection, but if you're working with colored pencils, charcoal, or different sizes, you'll need a unit that can adapt to those designs and work well on those often softer leads.
Judging by their efficiency, features, and ratings, these are the five best electric pencil sharpeners on Amazon.
We only recommend products we love and that we think you will, too. We may receive a portion of sales from products purchased from this article, which was written by our Commerce team.