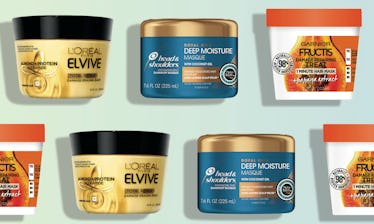 The Best Hair Masks You Can Buy For Under $10 — & They're All On Amazon
Amazon/Elite Daily
If you have hair, you could probably benefit from using a hair mask every once in a while. And since the best drugstore hair masks cost less than $10 — and work their magic within minutes — you have no excuse to wait until your next cut or color appointment to give your hair some TLC.
For the most part, stylists recommend using a mask once a week, after shampooing and in place of conditioner. My stylist actually recommends shampooing twice before using a mask, since it's easier for clean hair to absorb all those power-packed ingredients. She also recommends squeezing out excess water then loading up the product on the ends, where the hair is older and more in need of strengthening and conditioning.
If you're short on time, you can leave your mask on for a few minutes while you finish up your shower. Otherwise, you can comb the product through your washed and semi-dried hair, wrap your head in a towel (or throw on a shower cap/processing cap), and leave the mask on for up to 20 minutes, or as long as overnight, depending on your hair type and level of damage (if any).
In short? Better to use a mask even occasionally than to use no mask at all. Below are just five of the best drugstore hair masks you can find, according to particular hair concerns and preferences. They're just as effective on your hair as they are easy on your bank account.