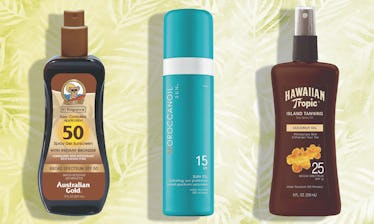 Attention Beach Bums: This Summer, Have Safe Sun With These SPF-Infused Tanning Oils
Elite Daily/Bustle
It's a well-known fact by now that tanning is bad for you, and that you should apply SPF every time you step out of the house. But even so, I, like so many others, can't help but desire a little bronze glow when summer or vacation comes around. Luckily, you can expedite your tan while still keeping your skin (relatively) protected with one of the best tanning oils with SPF.
But first, a few things to know. You can still tan with a regular old sunscreen that contains an SPF of 30 or higher, which is what's recommended by the American Academy of Dermatologists for keeping your skin protected from the sun. If you're going to use a tanning oil with SPF in place of sunscreen, you should look for a formula that contains a similar number. There are tanning oils on the market with SPFs of 10 or lower, and some with as low as four. Using one of these is not a good idea, as they don't offer much sun protection at all. So if you're absolutely set on using an oil with a lower SPF? Put on a regular sunscreen, too.
Ahead, find four of the best tanning oils that will help keep your skin protected from the sun.