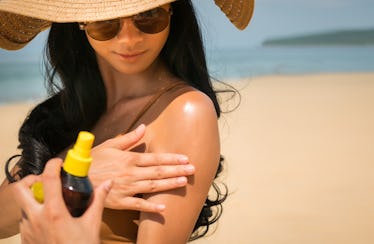 From Reef-Safe Formulas To Versions With SPF, These Are The Best Tanning Oils For Summer
By now, everyone knows that lying out in the sun is bad for your skin, which means that, by association, tanning oils also have a pretty bad reputation. Regardless of how beautiful you think a sun-kissed glow is, any type of deepening of your skin tone by the sun is considered skin damage — there's no other way to slice it. Obviously, that still doesn't stop people from slathering on oils and lying out in the sun. And if you're one of those people, you're probably interested in discovering the best tanning oils — and hopefully, learning about the safest ways to use them.
If you're going to sunbathe using a tanning oil, please put on some form of sunscreen first, since most tanning oils only have an SPF of 15, if any at all. This will help prevent burning, but it won't affect your ability to get a tan. The American Academy of Dermatology recommends wearing a sunscreen with an SPF of at least 30 or higher, so if you're shopping for a new one, check out these lists of the best sunscreens with SPF 50, the best high SPF sunscreens, and the best Asian sunscreens you can buy.
If you do burn, try to avoid any further sun exposure until you're healed. If you do have to go outside, make sure you're wearing an SPF on your face and any exposed body parts. Using an aloe gel or lotion will also help soothe and moisturize dry, burnt skin — and they also make aloe gels for your face.
Below, check out the five most highly-recommended tanning oils you can buy.