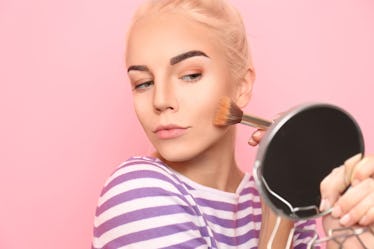 Super Dry Skin? These 4 Hydrating Setting Powders Won't Flake Or Cake
If you have dry skin, you know that it can be particularly difficult to find a setting powder that doesn't flake or cake up. You wouldn't opt for a moisturizer or a foundation without deeply hydrating ingredients, so the best setting powder for dry skin should also be nourishing, moisturizing, and gentle. Unfortunately, due to their traditional matte finish, most setting powders are formulated to work best on oily or combination skin, often leaving people who are prone to dry skin without many options.
At first glance, the selection may be overwhelming; the vast majority of setting powders look the same, so you really have to get down to the nitty-gritty of the ingredients in order to differentiate. A powder that's infused with hydrating ingredients will help nourish skin, and a formula with some sheen can help create a dewy, glowy effect despite dryness. That said, sometimes it's more about what a formula doesn't contain: Common setting ingredients like talc can be very drying and irritating, so it's best to avoid formulas that utilize them.
With all that in mind, I researched the best setting powders according to ingredients and reviewer feedback. The options listed below will help preserve and prolong the life of your makeup — all without drying out your skin.