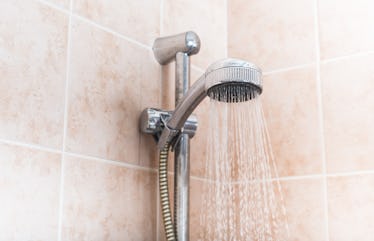 This $20 High-Pressure Shower Head Has Thousands Of Glowing Reviews
archimede / Shutterstock
If your shower has disappointing water pressure, it might be time to snag a new shower head. The best high-pressure shower heads come in fixed and handheld designs, and they contain features and settings that target the water spray in impactful streams. While most of the high-pressure shower heads I found on Amazon operate with a flow rate of 2.5 gallons per minute, you can also find a water-conserving low flow shower head that's designed to create a higher pressure experience.
Federal regulations cap the flow rate of a shower head at 2.5 gallons per minute (GPM), and some states have even lower limits. If water pressure is your highest priority, opt for a shower head with a 2.5 GPM flow rate, or the highest legal rate in your area. The design of the shower head can also make a difference. High-pressure shower heads typically have features or settings that allow the water to flow in a powerful spray, rather than dispersing water as soft mist. These kinds of features also make it possible to find a water-conserving low flow shower head that simply feels like it has a high-pressure output, which is helpful if you live in a state with stricter water regulations or simply want a more environmentally friendly fixture.
Whether you're searching for a handheld, fixed, or water-conserving shower head, here are some of the best options for getting a high-pressure shower experience at home.
We only recommend products we love and that we think you will, too. We may receive a portion of sales from products purchased from this article, which was written by our Commerce team.