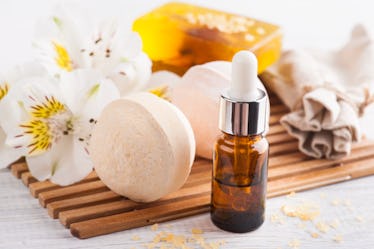 You Can Create Your Own Custom Bath Bomb Scents With These Soothing Essential Oils
fotolia/Irina Bort
Making your own bath bombs at home is relatively simple to do. Once you've settled on a DIY recipe to use, next comes the fun part: Deciding which essential oils to put in your bath bombs. The best essential oils for bath bombs are sold in sets that enable you to blend together several oils to create a customizable and unique scent.
In that respect, choosing essential oils for bath bombs is not unlike creating your own custom perfume. While certain ones like lavender, peppermint, tea tree, and eucalyptus are among the most popular essential oils you'll find in any set, you might also want to seek out more unique floral and tropical-scented fragrance oils, like jasmine or pineapple, to use in your bath bombs. But, keep in mind, unlike true essential oils, fragrance oils typically rely on both synthetic as well as plant-based ingredients.
There are also some essential oils that are less safe on your skin. For example, citrus ones, like lemon or grapefruit oil, may work well in cleaning solutions for your home, but could cause photosensitivity when topically applied to skin (this could leave you more prone to sunburns). So, research any oils you're planning to use before adding them to a bath bomb, especially if you haven't used them before.
With that said, take a look below at the best essential oils for bath bombs.