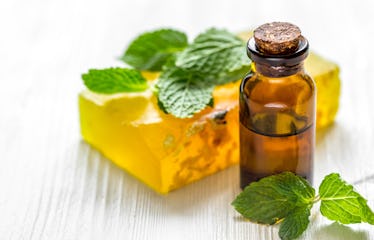 From Laundry To Kitchens, These 5 Essential Oils Can Clean Your Entire Home
fotolia/279photo
Whether you're trying to freshen up your cleaning products or avoid harsh chemicals altogether, there are a ton of natural oils that work as disinfectants. In fact, the best essential oils for cleaning pack nearly the same punch as any other cleaning agent — only without the chemicals.
The good news is that most oils are super easy to clean with, and many can be mixed with other oils for even more potency. To make just about any solution, mix up to 10 drops of oil in a gallon of water for a mild cleaner, or mix them into vinegar, baking soda, or castile soap to create a variety of other cleaning solutions. You can even add essential oils to coconut oil to make a natural insect repellant. The options are endless.
But first, consider where in your home you plan to use them. While most have some kind of antiseptic properties, each tends to eliminate different strains of bacteria and viruses. For example, thyme oil is particularly effective against salmonella, so this oil would work best in the kitchen, while a less potent oil, like lavender, is gentle enough to use on laundry.
With so many different oils on the market, it can be tough to figure out the ones that'll work best for you. Here's a round-up of some of the best essential oils for cleaning to help keep your cleaning routine eco-friendly and chemical-free.