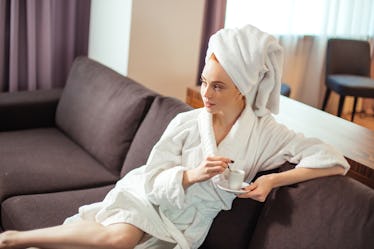 Snag One Of These Highly-Rated, Cozy Bathrobes On Amazon In The Name Of Self Care
alfa27/Fotolia
Fans of comfy clothes know that having one of the best women's bathrobes is a total must. Some are more absorbent than others — for post-shower use! — but robes should exude nothing but cozy loungewear vibes. And if you don't know what makes a robe "the best," I'm here to help.
First, consider the fabric makeup. If you're looking for a robe to dry off after a shower or bath, choose one made with fabrics that soak up moisture. Robes like this, often terry cloth, are reminiscent of the ones you'd get at a hotel or spa — and, for extra warmth, some even have hoods. However, if you're in the robe game for a lightweight option to wear over your pajamas or lingerie, those silky options exist, too. It's really all about your style preferences, especially in terms of length and thickness.
To help narrow your search, read on to shop my list of the three best robes for women on Amazon. They're available in a variety of different cuts and fabrics, and, of course, come highly-rated by happy customers. Once you've picked out your new robe, take your relaxing wardrobe to the next level with the best women's slippers.