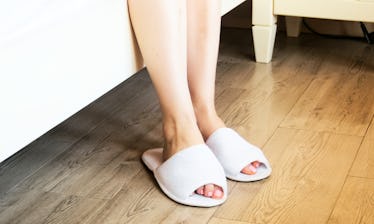 Confirmed: These Soft & Warm Slippers Are What Cozy Dreams Are Made Of
Кирилл Рыжов/Fotolia
There are few things better than coming home after a long day and relaxing in your favorite comfy clothes. And if you haven't already added a pair of the best women's slippers to the mix, you (and your feet) are missing out on some serious coziness.
When it comes to finding the most comfortable slippers to add to your wardrobe, it's really all about your personal preferences. You can choose among different slipper styles — slides versus moccasins, for example — as well as various fabrics and linings including dense wool for extra warmth. Many thicker options also have durable rubber outer soles, meaning you can totally wear them outdoors should you feel so inclined.
To help you inform your search, I've compiled a list of the three best women's slippers, below. All my picks are affordable enough to fit any budget and offer a variety of different looks and features guaranteed to exude the chillest vibes. I'm talking about plush memory foam footbeds and statement graphics that really say something. But the one thing they all have in common? They're all cozy AF and — pro tip — pair extremely well with the most comfortable pajama sets. Just sayin'.