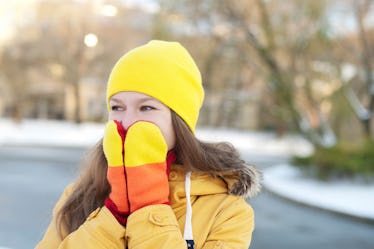 OMG You Can Get These Cozy Winter Hats On Amazon, So Let's Bundle Up
Lyuba Burakova/Stocksy
Every cold-weather wardrobe needs one of the best winter hats. From beanies to base layers, there are a variety of different types — with varying degrees of insulation — to choose from. And the best part? They all offer protection against frigid wind chills without sacrificing comfort or style.
But before deciding on the one for you, there are few things to consider. First, think about where you'll be wearing the hat and how much coverage you'll need. If you're going to be spending time on ski slopes, chances are you'll need more ear and neck coverage than if, say, you're just commuting to work. Also, depending on how much you'll be sweating, look for breathable fabrics that'll still keep you warm. On the flip side, for maximum warmth, look for a toasty fur lining.
Ready to take your pick? To help you differentiate between all the options, I've compiled a list of the three best winter hats you can buy on Amazon, below. Each offers its own standout features and warm fabric makeup, but one thing's for sure: They're all guaranteed winter staples. Plus, psst — they'll pair perfectly with your go-to base layers and even the best winter boots.